Thank you for visiting! By the way… any links on this page that lead to products on Amazon and other stores/partners are affiliate links. Aquarium Store Depot earns a commission if you make a purchase.
Looking for the best 20 gallon fish tank? We have the perfect 20 gallon aquarium for your desktop or table. They're small enough that it doesn't take up an entire room, but big enough to keep some aquatic life alive!
Setting up and maintaining one of these cute little aquariums can be challenging, but there's no doubt in my mind how rewarding it feels when everything goes according to plan. Especially since many people will enjoy the ambiance from such adorable creatures!
Today, we'll be talking about the best 20-gallon aquariums for you and what fish to get. Let's start by discussing criteria!
What Is The Best 20 Gallon Aquarium (Our Criteria)
I used to own a 20 gallon long aquarium. It was one of those 30 inch long standard tanks you purchase at the chain pet store. Nowadays, the options are plenty. There's an aquarium, aquarium kit, or fully decked out system for every taste and budget – but what really makes one preferable over another? Here is how I determined my favorite choice!
Aquarium Layout
The rimless aquarium is a style that's gaining popularity for its sleek design. At this size, it can be purchased at an affordable price. I want to provide multiple purchase opens and setups for you to consider.
Filtration
Several of these aquariums are going to be all in one tanks complete with a 3 stage filtration system. For kits, I want to make sure I find a glass aquarium kit with a decent starter filter that you won't outgrow or will fall apart on you. If it is a basic fish tank, I want to make sure it's the right dimensions to allow for multiple filter setups.
There's a new trend in the fishkeeping world – a fish tank kit with everything included! These kits come complete with three-stage filtration systems – often times with the system built into the fish tank! Tanks made this way make it so you'll never have to buy another filter again. Other kits may include a power filter or internal filter. I'm looking to list packages that have solid equipment so you start out on the right foot.
Lighting
Some of these aquariums will come with lighting systems. If they do, I want to lean on systems that can support low light aquarium plants if they are designed for freshwater tanks or soft corals if they are designed for saltwater.
I want to lean on systems that can support at minimum low light aquarium plants if they are designed for freshwater tanks. For saltwater tanks, they need to be the correct spectrum and have enough par to support soft corals and easy to care for LPS corals.
Price
Price is always a considerations when it comes to building your dream aquarium. The most basic of glass tank can be found for as little at $50, but high-end models will set you back more than that! This article aims at helping those who want an affordable and durable setup with great features while still being able stay within their budget constraints. An aquarium kit may also help with costs as they can be cheaper than buying all the equipment separately.
The 20 Gallon Aquarium Candidates
Below is the list of 20 gallon fish tanks that made the cut. They are from various price ranges and cover both freshwater and saltwater tanks. I'll go over each one in detail.
In a hurry? I recommend the UNS 60!
Picture
Name
Features
Link

Editor's Choice

UNS 60

Rimless
Excellent Quality
Great Price

Click For Best PriceBuy On Amazon

Best Value

Waterbox 20 Cube

Cube Format
Built In Filtration
Rimless

Click For Best PriceBuy On Amazon

Budget Option

Aqueon 20 Gallon Aquarium Kit
Click For Best PriceBuy On Amazon
Red Sea Max Nano

Built In Filtration
Great For Nano Reefs
Premium Setup

Buy On ChewyBuy On Amazon
Fusion Pro 20

All In One Aquarium
Rimless
Great For Nano Reefs

Click For Best PriceBuy On Amazon
Aqueon Neo Glow Tank Kit

Designed For GloFish
Great Value

Buy On Amazon
Aqueon 20 Gallon Tank
Buy On PetcoBuy On Amazon
The 7 Best (2023 Reviews)
So, you've seen the list. Now it's time for some fish tank knowledge! Let me show ya each one below and tell ya what makes them special in their own unique way…
1. UNS 60U
Editor's Choice
The UNS 60U is a great 20 gallon glass tank. It has the same dimensions as a traditional 20 gallon fish tank, but is rimless. UNS is well known in the planted fish tank community for building high quality rimless aquariums. These aquariums are well built and are actually cheaper than other rimless tanks you may find online.
This aquarium is very popular among the aquascaping community. There are plently of videos online of builds that will get your inspiration going. Here is a great example of wjhdrew's fish tank below:
Because this aquarium is the same dimensions as a rimmed 20 gallon fish tank, it should be easier to find a cabinet, or you can purchase your own. Just make sure the surface the aquarium is sitting on has support all around it. Many discount cabinets will have large gaps, which won't work with a rimless fish tank.
It's a great brand and a great fish tank if you want a rimless fish tank. It can be on the pricey side if you are comparing it to a rimmed fish tank, but beauty and looks does have a price!
Best For – Freshwater Tanks, Aquascapes
Pros
Rimless
Great price
Excellent quality
Cons
No filter included
No background
2. Waterbox 20 Cube
Best Value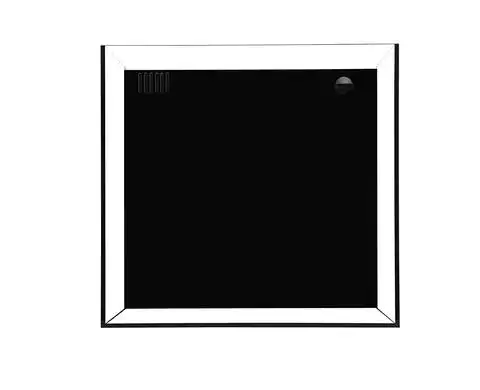 The Waterbox 20 Cube offers a great looking cubed fish tank with all the bells and whistles to get you started. It is an all-in-one fish tank with a built in filtration system. The filtration systems comes with a filter sock, which is a type of mechanical filtration that is going to be superior to most other filtration systems in this aquarium size. The socks are replaceable or washable and can be more maintenance then foam. Waterbox also includes bio-balls, carbon, and a filter sponge to round out the system.
The system is more designed for saltwater systems, but this fish tank can also be a great freshwater planted tank. It comes with a black background versus a frosted or clear background that you will see with many planted style scapes. While this might take away from the landscape look, you can balance it out by using more colorful nano fish that stand out when setting these up.
For saltwater tanks, this cube is a perfect glass tank. it has great dimensions for building up rock scape for corals and the footprint means the AI Prime a perfect light for this system. Most reefs will end up using the filter sock and opt-in for a protein skimmer for added filtration. It's great that this system can function with either setup.
This is a great value for a cubed rimless given all the features offered for this fish tank. The price may be high for some people, but the next option offers another great value at a lower price.
Pros
Cube format
Great brand
Built in filtration
Cons
Black background
Expensive
Best For – Nano Reef, Freshwater Tanks
3. Aqueon 20-Gallon Aquarium Kit
Budget Option
The Aqueon aquarium starter kit is an excellent budget option for those who want to get started with fish keeping. This because they offer a multitude of equipment in one package, most or which performs well and remove any guesswork about what you need when starting out
This package includes everything you need to get started with fishkeeping, including a standard fish tank and hood, a fish net, fish food, and tap water conditioner. You save money by purchasing the complete set over buying each item separately! I believe this kit is one of the best 20 gallon glass aquariums because it has a better quality equipment than other kits including the Marina led aquarium kit, Tetra whisper 20, and generic brand kits.
The main difference between the Aqueon kit and the other competitors is the power filter. The Aqueon filter is a 3 stage filtration system that can tell you when it needs to be replaced, so there is no guesswork when to do maintenance. The hood is good for fish only tanks, but not good for planted tanks.
The main separator between Aqueon's offering and the others is the power filter. Aqueon's filter is a true 3 stage filter and as a feature that tells you when you should change the filter cartridges. The hood is good, though not ideal for planted tanks. The water heater is decently made. I've personally used these heaters for either a hospital tank or quarantine tank and never had an issue, but the preset heater bit too hot if you want to keep your temperature lower than 78 degrees Fahrenheit (26 Celsius).
This package is perfect for those who want an easy and stress-free experience when selecting their fish tank kit. This is the best 20 gallon fish tank kit to buy if you want cheap, yet good equipment to start.
Pros
Complete kit
Good price
Quality brand
Best For – Freshwater Tanks
4. Red Sea Max Nano
Best Nano Reef Tank!
Red sea offers the best nano reef tank available starting at 20 gallons. It offers all the benefits of your classic red sea reefer, but in the small footprint of a 20 gallon fish tank.
It offers ultra-clear glass with bevealed edges at the top and bottom for the best viewing experience you can get. The water pump provided offers 240 gallons per hour, which puts this at the 10 times turn over level you want for many desirable corals in the hobby. It's designed to be adjusted to ensure there aren't any dead spots in your aquarium.
The filtration system is powered by a micron filter bad and a protein skimmer can be detached from the fish tank. This is the only nano reef tank package I have seen that offers a protein skimmer out of the box – and the protein skimmer is actually pretty good. You also get a media shelf to place any chemical or biological media you want. The system also comes with an auto-top off system that has a has a built in reservoir that supply 3 days worth of freshwater.
The led lighting system is designed for reef tanks. The kit comes with a ReefLED 50, which Red Sea's competitor to the AI Prime and AI LED lighting units. It's a great light for corals. The light is powered by the ReefBeat App, which connects all your red sea devices together.
This is bar none the best nano reef tank you can buy today, but it comes with a big price. As the most expensive tank kit on this list, it's not for everyone. However, this is a premium quality fish tank kit for reef setups. If you are looking for a high quality setup with the guess work taken out of it, look no further!
Pros
Great brand
Built in filtration
Premium quality
Cons
Expensive
Designed only for reef tanks
Best For – Nano Reef Tanks
5. Innovative Marine Fusion Pro 20
Best Value
Innovative marine is the originator of the modern all in one nano aquariums you see in the saltwater tank hobby. This Fusion Pro 20 is their latest line of aquariums and really comes in offering premium features. This extraordinary fish tank kit comes with a mesh lid and micro glass cleaner to keep your favorite dweller from jumping out, plus it has an algae scrapper for removing unwanted algae.
The Innovative Mighty Jet DC water pump is a great option for any nano reef tank. It's got adjustable flow rates so you can customize it to your needs, no matter what type of corals are going into the aquarium!
Innovative is a company that has been making stellar aquariums for years. Their products are worth every penny and they're one of our favorite brands!
Pros
Great brand
Built in filtration
Peninsula style
Best For – Nano Reef Tanks
6. Aqueon NeoGlow Tank
Want something really unique? Try Glofish. This aquarium is a kit that is specially designed for Glofish in mind.
What are Glofish? Glofish are a specialized type of fish that have a fluorescent glow to them. These fish are not injected like the old painted glass fish we used to see 20 years ago. These fish are specially bred. Their colors are hereditary traits that are passed down from generation to generation. Their breeding has helped us understand cellular disease and development1.
What you get here is a 20 gallon fish tank, a Aqueon power filter, a specialized LED lighting system and hood, artificial plants, rocks, and gravel that all show well in fluorescent lighting.
There are many Glofish fish species available these days including:
The price is not too shabby with everything that's included here. If you want something unique, then this Glofish fish tank kit might just be what you need!
Pros
Good value
Designed for GloFish
Multiple color options
Cons
Limited setup use
Rimmed aquarium
Best For – GloFish Tanks
7. Aqueon 20 Gallon Long Tank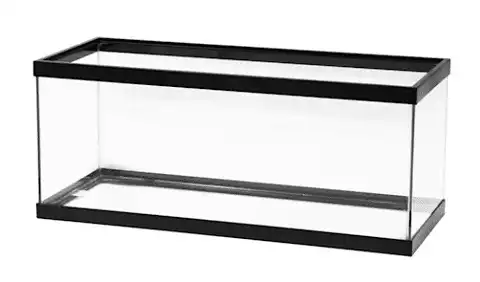 The Aqueon 20 gallon long is a great glass tank for getting length at a cheap price. While the price may seem great at first impression, it can actually end up costing more than an Aqueon glass kit to build out your system – not that there's anything wrong doing this!
I included the links to go purchase this if you want. It's an affordable 20 gallon fish tank and will last a long time. It's just not my first choice, as I prefer to work with rimless aquariums these days or all-in-one systems for smaller aquariums. If you want a rimless or an all in one system, consider the other aquariums on this list.
Pros
Cheap
Long format
Easy to find
Cons
Not ideal for aquascaping
Rimmed aquarium
Best For – Freshwater Tanks
What Fish Can I Get For This Size of Tank?
Nano fish are the best choice for new aquarium keepers. They're small, colorful and adorable! Some common nano fish species options include:
Nano reef tanks are great-looking and challenging tanks to keep. You need to be mindful when selecting freshwater fish species that will get along in a small tank like this. Here are a few options:
Firefish Gobies
Clown Goby
Azure Damsel
Cardinalfish
The clownfish and the damselfish are the two riskiest fish species of the bunch. Clownfish are iffy trying to pair at this size as a non-paired couple will fight it out until one of them submits. With the damselfish, their aggression might be too much for many on this list. If you are going to attempt a damselfish and clownfish, it's best to pair them together as the clownfish and damsel can work through their aggression – while most other fish will be harassed to death.
Setup Guide
Setting up a 20 gallon fish tank can be stressful if it is the first time for you. Luckily, it's easier than you think if you are guided.
I go for planted tanks or reef tanks. Here is a good video from Shawn Hineidi that shows a simple aquascape that can be installed in a 20 gallon fish tank. Check it out below:
To start building your own aquarium from scratch, you will need the following:
Filter
Heater (if going with tropical fish or marine fish)
Lighting
Decorations
Live Plants or Corals
Aquarium Filtration for The Tanks
There are a ton of options when it comes to 20 gallon fish tanks. If you want to go with a canister filter, I would recommend the OASE Biomaster 350. This is the smaller version of the Biomaster 600. It's great for a 20 gallon fish tank. If you are looking for a pro level 20 gallon planted tank, you might want to consider upgrading to the 600 model.
You can try power filters, which are a great choice. My go to for power filters are Hagen Aquaclears. In my mind, the aquaclear is the best power filter you can purchase in the hobby.
Editor's Choice
Aquarium Heaters
You want to have a quality heater in order to keep your tank temperatures stable. it's important to consider a brand like Eheim when shopping around. The heaters that come with OASE filters and controllers are also excellent choices – you'll have no problem getting the job done!
Hooking up your heater to a controller is the best way for added safety. Inkbird has great controllers with wifi capability, and they even have an app on you phone that you can download that will send you alerts.
Protects Against Heater Failure!
Aquarium Lighting
The range of led light options is as vast and diverse, from basic to advanced. You have the option of two great choices at this size whether you want to go with a freshwater planted tank or a saltwater reef tank.
The freshwater Serene RGB Pros have a variety of led light features that will help you grow your favorite live plants. They come with an easy-to control and adjustable controller, making this led light perfect for anyone looking to add some lushness into their aquarium!
Best Value
For saltwater aquariums, the AI Prime is the best led light you can purchase for nano reef tanks. With the AI Prime, you can grow just about anything short of hardcore SPS corals. They work amazing for Zoas – a very popular beginner coral that's great in Nano reef tanks! This led light is good for 24×24 footprints. You may have to plan a different led light if you go with a 20 gallon long. For 20 gallon longs, I would recommend the Current USA IC Pros.
Great For Zoas
Decorations
Driftwood make a solid decorative piece for 20 gallon aquariums, but you can use any type of decoration that suits your needs. Some people prefer driftwood with low tannins and others like those made from manzanita. Manzanita are reasonably placed and easy to place in an aquarium.
Editor's Choice
For saltwater tanks, I would recommend purchasing live rock at your local fish store. These are so small you really don't need much to get started! A couple pounds is plenty – 7-10 lbs should do it for starters. Fill the rest of the aquarium up with dry rock.
Live Plants or Corals
If you're just getting started with keeping fish, it's best to start off by adding some beginner plants. There are many different types that will thrive in a 20 gallon tank and they can make fish's home look more appealing too! Some great options include:
All of these live plants feeds off the aquarium water column, so you can glue them to driftwood. If your looking for a high-quality live plant seller consider buying from an online retailer like Buce Plant
My Pick
Buce Plant
Buce Plant offers a wide variety of aquatic plants for sale. With one of the largest selections in the US, you will find what you need here. They are also a great source for freshwater shrimp!
Click For More Info
FAQs
What Fish Are Good In A 20-Gallon Tank?
Guppies, rasboras and danios all make excellent choices for aquariums of this size. Small tetras are another great addition if you want something with more color! Corydoras catfish can't be beat either- they're easy to care for and require very little maintenance once established in their tank or pond surroundings. A betta sonority is also a great option.
On the saltwater side, nano reef fish like firefish gobies, clown goby, clownfish, or an azure damsel would work. Aggression is a major factor with tanks these small. Clownfish and azure damsels will be too aggressive for timid fish like fishfish.
How many can this size of tank support?
The smaller the fish, the more you'll want to house them in a tank of their own. 10-16 small schooling freshwater fish can live together with proper filtration and decoration (or even better: live plants) for company!
Is This Size of Tank Good?
A 20 gallon tank is a great first timer's fish tank if it is setup as a freshwater aquarium and the filtration system is of good quality. It is sizable enough to build a good filtration system and not as maintenance heavy as a 40 or 55 gallon tank.
On the saltwater side, a 20 gallon tank is considered at the moderate end of a nano reef tank. These tanks can be a challenge to maintain and keep stable. A 40 or 60 gallon breeder are the best first time saltwater tanks to start with.
Is This Sizze of Tank Hard To Maintain?
No. The ease of maintenance for a 20 gallon tank is one reason it's so popular. You can keep your stocking reasonable while still having enough space to grow plants without worrying about maintenance issues that come with larger tanks- which means you won't be spending as much time monitoring water quality or trimming plants!
If you plan on a heavily planted tank, the trimming and water changes and add up to a lot of maintenance time for some aquarists.
Is This Tank Big?
20 gallon tanks aren't that big in size. The 20 gallon tank is a great size for home or office use. The standard dimensions of this type are 24″ x 13″, and they can easily be found in most stores! The 20 gallon tank is a great size for home or office use. It's not too big, but it can hold enough water and fish to make your space feel more complete!
How much would a tank this size cost?
A basic 20-gallon tank will be about $20-$25 per gallon or $400-$500 to set up for a freshwater glass tank. For a saltwater tank, expect to pay $40-$60 per gallon or $800-$1200. You can definitely pay less than what I'm suggesting, however, keep in my the ranges I throw out are for higher-quality setups not discount store kits which tend to have low-quality equipment that will not last. A glass tank will also be cheaper than an acrylic tank in most cases.
Closing Thoughts
Whichever tank you choose, it will be a great addition to your home and provide an excellent living space for small fish. These 20-gallon tanks are perfect if that's what suits YOU best! If there's anything else on this list of aquarium options but isn't quite right (maybe too big or small), leave us questions below – we're here everyday ready talk through any issues
Mark is the founder of Aquarium Store Depot. He started in the aquarium hobby at the age of 11 and along the way worked at local fish stores. He has kept freshwater tanks, ponds, and reef tanks for over 25 years. His site was created to share his knowledge and unique teaching style on a larger scale. He has worked on making aquarium and pond keeping approachable. Mark has been featured in two books about aquarium keeping – both best sellers on Amazon. Each year, he continues to help his readers and clients with knowledge, professional builds, and troubleshooting.